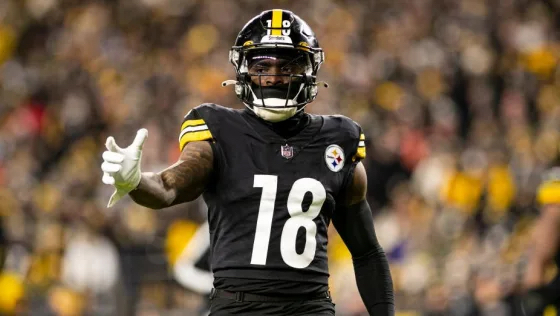 Following a relatively drama-free weeklong holdout, wide receiver Diontae Johnson has extended his Pittsburgh Steelers contract.
By the time the franchise offered Diontae Johnson a new deal, he signed it the following morning.
Diontae Johnson led the Steelers with 1,161 yards on 107 receptions last season. He also showed he can mix it with the best quarterbacks, racking up eight touchdowns thanks to his connection with Ben Roethlisberger.
His two year extension averages $18.3 million a year, with $27 million guaranteed depending on incentives.
Want $250 to bet on NFL futures?
Sign up here!
"He's a significant piece," coach Mike Tomlin said. "He's done a good job of staying connected throughout the process. His train left the station today. I'd imagine it's not gonna be much of a transition in terms of him getting up to speed. I know he was excited about work today."
"We want Diontae, and we're excited to have Diontae as part of this team," general manager Omar Khan said Tuesday. "We hope he's going to be a Steeler for a long time."
"It was a relief for me," Johnson said with a smile Thursday. "Just to be able to get it done, just to get back out there with my brothers is a blessing. I'm happy.
"I felt like the time was right," Johnson said of signing his contract. "I'm ready to get back, get this train going.
"I love being a Steeler," Johnson said. "I wanna finish my career here … It feels like I made the right choice, and I wanna continue to be here for a long time."
Read: Cooper Kupp Admires Justin Jefferson's Confidence
His happiness feels genuine, because Johnson didn't hold out for similar money to his peers. Fellow 2019 WR draftees Deebo Samuel and DK Metcalf both signed extensions in the $70 million range this offseason.
"You see the numbers, but I wasn't trying to look at everybody's pockets," Johnson said. "They deserve it. At the end of the day, I can't control what they got going on. I'm just worried about what I got going on. We were able to come up with something, and I'm happy that we were able to come to the table and get something done."
Facebook Twitter LinkedIn