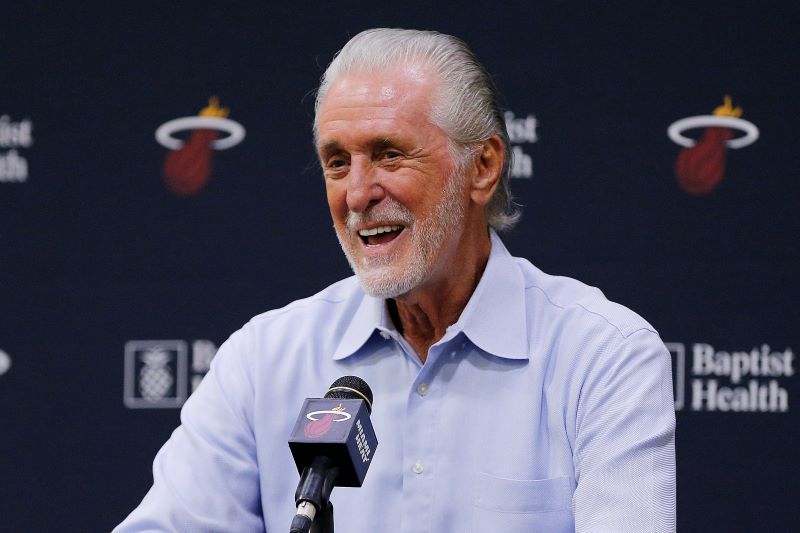 Miami Heat president Pat Riley wants to stick around for a team he feels has the ability to win now.
The 77 year old says Miami is in a position to stay ahead of the competition thanks to having elite talent like Jimmy Butler.
Pat Riley won the championship as head coach of the Heat in 2006. He was also instrumental in building the 2012 and 2013 championship teams.
Last week, Miami came within a few seconds of another Finals appearance, ultimately losing to the Celtics.
Want $250 to bet on the NBA Finals?
Sign up here!
"I definitely feel an obligation to finish this build," Pat Riley said. "And so if we're three years into this build — then I don't want to do another three years of just building this team. I think we're in that window of internal improvement. We got a great, great, great player in Jimmy Butler, we know that.
"We have a lot of real experienced veterans and so we put together a team that got to the Eastern Conference finals and it was bitter, it was a bitter loss. The dragon hasn't actually left my body yet from that loss. I was stunned, I was frustrated, I was angry, I was all of those things for the last week and now I'm beginning to move on past all of that, so I haven't given that any thought at all."
Read: Rams Sign Superstar Aaron Donald To Reworked Deal With $40 Million Raise
"There are nights that I'm so excited about watching this game and the evolution of the game, and the players," Riley said. "It's so different than it was 20 years ago, 30 years ago, 40 years ago when I coached in L.A. It's a different game, a different time, and we have to stay one step ahead of the posse, in order to stay one step away from — the street. And that's what we're going to continue to try to do."
Facebook Twitter LinkedIn