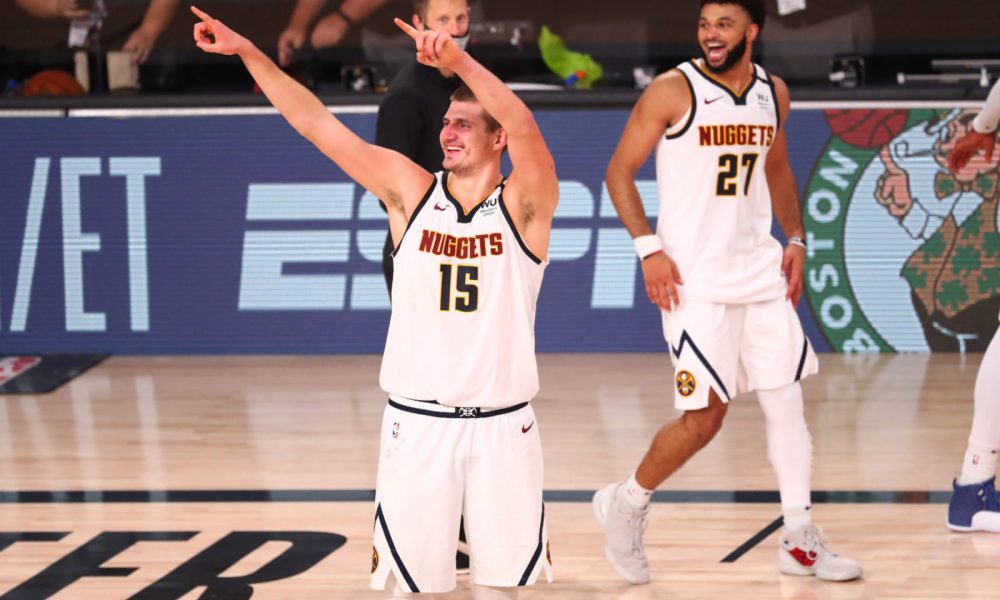 Sep 15, 2020; Lake Buena Vista, Florida, USA; Denver Nuggets center Nikola Jokic (15) celebrates after defeating the Los Angeles Clippers in game seven of the second round of the 2020 NBA Playoffs at ESPN Wide World of Sports Complex. Mandatory Credit: Kim Klement-USA TODAY Sports
With the 2021-22 season now in the books, the finalists for the annual awards have been secured.
The biggest discussion sits around the MVP award as the race has become closely contested between three candidates. According to ESPN, the three finalists include Nikola Jokic, Joel Embiid, and Giannis Antetokounmpo.
Nikola Jokic is a finalist to win a second straight NBA MVP award, along with two-time winner Giannis Antetokounmpo and Joel Embiid.
It marked the second straight year that Jokic has been a finalist. After winning the award for the first time last season, he has put together another highly impressive campaign, averaging 27.1 points, 13.8 rebounds, and 7.9 assists while shooting 58.3% from the field.
Jokic's play has been a huge part in helping push the Denver Nuggets despite the team not having Jamal Murray or Michael Porter Jr. for much of the season.
Meanwhile, Joel Embiid has been securely in the MVP race throughout the year. Embiid had been seen as the early frontrunner for the first half of the season. He became the first center to lead the NBA in scoring behind averaging 30.6 points and 11.7 rebounds while shooting 49.9% from the floor and 37.7% from beyond the arc.
Want $250 to bet on NBA futures?
Sign up here!
Lastly, Antetokounmpo quietly put together another MVP-caliber season. He lifted the Milwaukee Bucks to one of the best records in the Eastern Conference after ranking second with 29.9 points and 11.6 rebounds while shooting 55.3% from the floor. All that should see the voting come to a close tally to determine the winner of the prestigious award.
Facebook Twitter LinkedIn