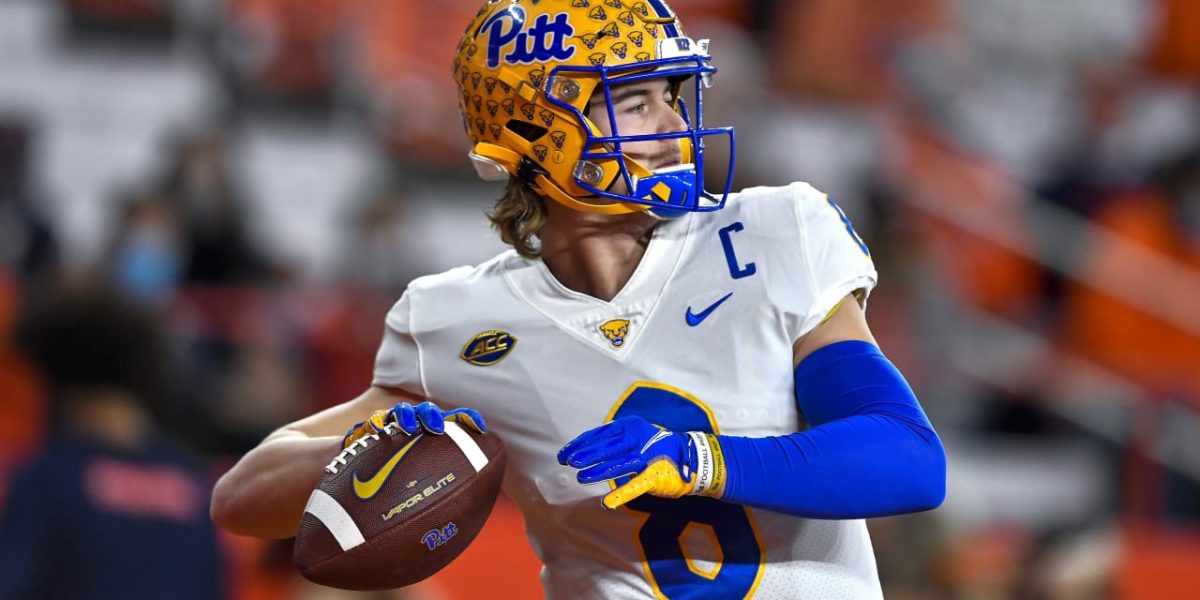 Kenny Pickett was selected by the Pittsburgh Steelers with the No.2 pick in the first round of this years' NFL Draft.
If it's as good a match on the field as it is theoretically, Pittsburgh could have it's new franchise quarterback.
Kenny Pickett, who played his college football for Pittsburgh, comes in as Ben Roethlisberger's heir apparent.
As well as that, he already has a connection with Steelers offensive coordinator Matt Canada.
Want $250 to bet on NFL futures?
Sign up here!
Matt Canada recruited Kenny Pickett to Pittsburgh. While he didn't coach him for the Panthers, the two are compatible in terms of style.
"He has a quarterback in the pocket, he gets the guy on the move, and I feel that's underrated in my game," Pickett said. "I feel like I do a really good job of getting outside the pocket and making plays, and he does that with his play design naturally. I feel like I do all the great things that he wants and that's why he recruited me for his offense. That's why I feel like I'm in Pittsburgh, now, again. I can't wait to get back into it, obsess over the playbook. Everything I do will be learning that playbook and being a Pittsburgh Steeler."
Pickett will compete with Mitch Trubisky and Mason Rudolph for a position as a starter in the offense.
"I'm pretty familiar with competing," Pickett said. "I've been doing it my whole life. I know how to be a good teammate and compete at the same time. I'm excited to join the quarterback room, get to know those guys and just get better. We're all chasing a championship. That's what matters. That's what I'm excited to go do."
Read: Doc Rivers Demands Pace As Toronto Series Slips Away
"It was a good move for him to stay in school," general manager Kevin Colbert said. "It just talks and preaches about what you can do when you stay and continue to develop and turn into a first-round pick. Kenny is special, and he grew from — like I said, we watched him come in as a freshman. You knew who he was, and when he became their starter, you just continued to watch him grow into the great season that he had."
Facebook Twitter LinkedIn