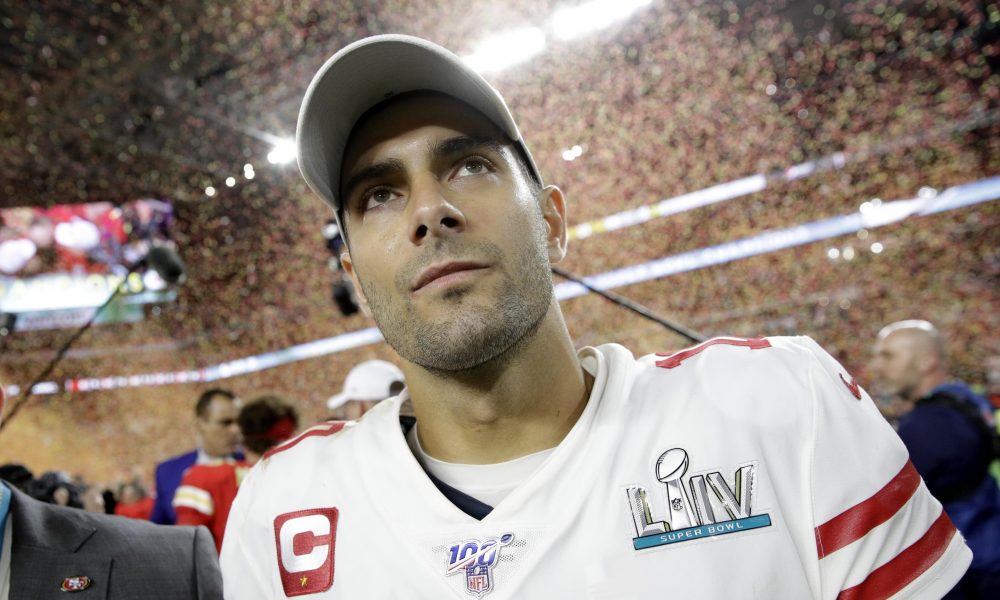 San Francisco 49ers quarterback Jimmy Garoppolo is in an unenviable position heading into the summer programme.
Jimmy Garoppolo knows his playing future likely lies somewhere other than San Francisco. As well as that, he is still rehabilitating his throwing arm following shoulder surgery. Jimmy Garoppolo has not yet even been cleared to begin throwing again.
His number has been up ever since the 49ers drafted Trey Lance in the 2021 NFL Draft. Nonetheless, he led San Francisco to the NFC Championship game while dealing with injuries.
Want $250 to bet on NFL futures?
Sign up here!
"I'm not where I want to be yet, obviously the shoulder surgery went well, rehab's been going great, but it's a process," Garoppolo said. "And I knew going into the surgery what it was going to take to get the shoulder back right, but we'll be throwing here soon, gotta keep going in the right direction. It's a long offseason, it's already been crazy with all the trades, guys going to different teams, whatever it is.
"I don't know, it's just one of those things where I'm just going to let the chips fall where they may and work my ass off like I always do, when you do that, good things will happen for you."
Read: Deebo Samuel Admits He's Asked The 49ers To Trade Him
"It was a strange year. I don't know if I'd wish that on anybody," Garoppolo told NFL.com's Adam Schein of Mad Dog Sports Radio on SiriusXM. "It worked out. We're here now."
"I'll definitely be ready, to what degree, we don't really know that yet," Garoppolo said. "I mean, we haven't even really started throwing yet, so we've still got a little ways to go, but I'm definitely feeling good right now, feeling happy with that."
Facebook Twitter LinkedIn