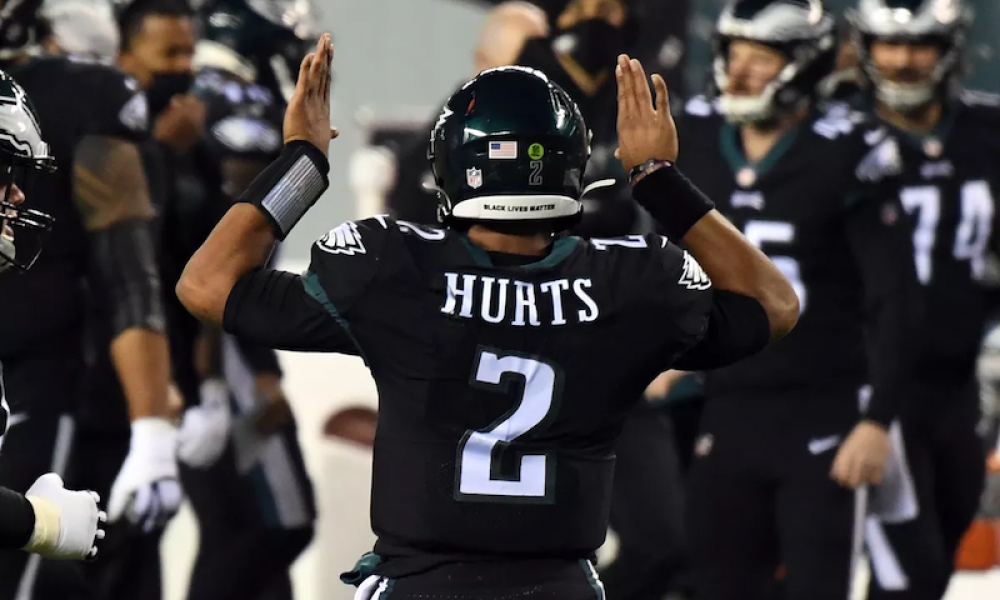 Philadelphia Eagles quarterback Jalen Hurts says the foundation for success was laid last season when they qualified for the playoffs.
In his first season as a starter, Jalen Hurts completed 61.3% of his throws for 3,144 yards with 16 touchdowns (nine interceptions). As well as that, the 23 year old rushed for 784 yards and 10 TDs.
The free agency and NFL draft period was a time of apparent uncertainty for Jalen Hurts. However, the Eagles have backed him as their starter for next season.
"It is understood. It's my opportunity, it's my team," he said. "It's my team, so we're ready to go."
Want $250 to bet on NFL futures?
Sign up now!
"I think this is an exciting time to be an Eagle," he said. "Coming off the things we were able to accomplish and overcome last year, I think there is a lot to look forward to. One thing I've been telling the guys is the foundation has been set, the standard has been set, and the only direction is to climb.
"The message has been, simply, the only direction is to rise."
One cause for optimism is the acquisition of wide receiver AJ Brown, whom Hurts knew in college. His chances of solidifying his position as the franchise quarterback are greatly improved with Brown in the WR room.
Read: Brett Veach – 'A Ton Of Work' Needed On Kansas City Defense
"He's always been an excellent player since I've known him in college," Hurts said. "Always had the ability to make plays with the ball in his hand, use his body, box out defenders, break tackles. He's a great addition to a great receiver room we have now, and I'm excited."
Facebook Twitter LinkedIn