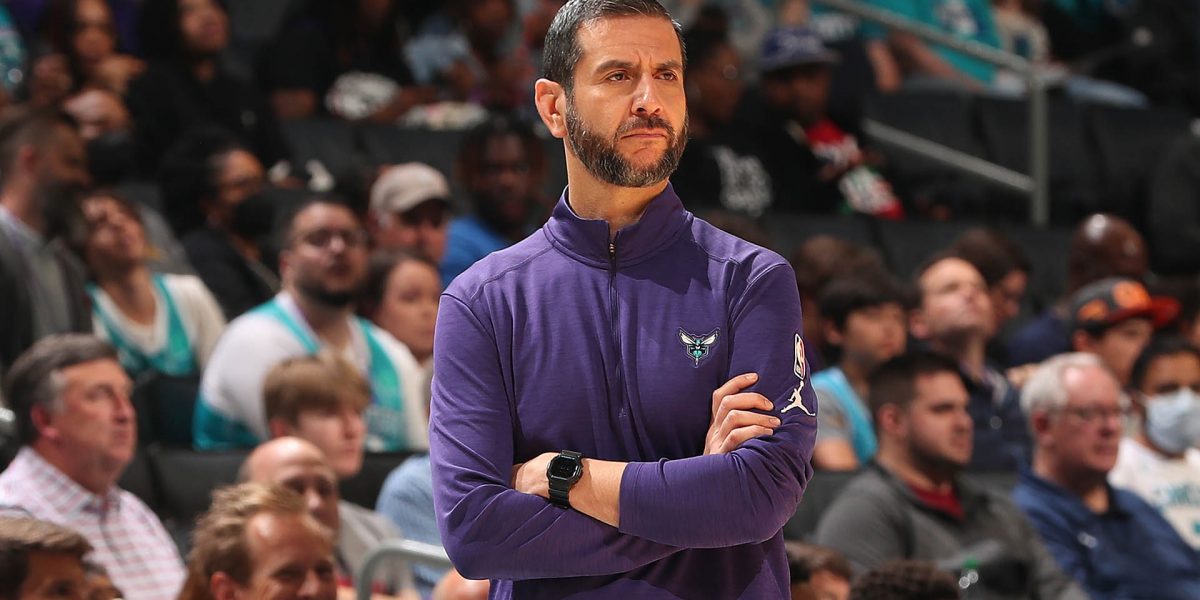 CHARLOTTE, NC – APRIL 7: Head Coach James Borrego of the Charlotte Hornets looks on during the game against the Orlando Magic on April 7, 2022 at Spectrum Center in Charlotte, North Carolina. NOTE TO USER: User expressly acknowledges and agrees that, by downloading and or using this photograph, User is consenting to the terms and conditions of the Getty Images License Agreement. Mandatory Copyright Notice: Copyright 2022 NBAE (Photo by Brock Williams-Smith/NBAE via Getty Images)
As the Charlotte Hornets move toward a second straight offseason falling short of reaching the playoffs, the organization made a significant change.
According to ESPN, the Hornets have decided to part ways with head coach James Borrego after four seasons.
The Charlotte Hornets have fired coach James Borrego, general manager Mitch Kupchak announced Friday.
Borrego has helped reshape the franchise after star point guard Kemba Walker's departure, pushing the team to near playoff contention in each of the last two seasons. Over his four-year tenure, he held a 138-163 record.
The Hornets' shortcomings in the play-in tournament are likely the reason why the franchise chose to move in another direction. Borrego had a strong rapport with the players, but the lack of playoff success was becoming a glaring issue.
Charlotte is looking to take the next step forward with its young core group led by LaMelo Ball and Miles Bridges. The franchise has constructed a team that could become a factor in the playoffs for the foreseeable future.
Want $250 to bet on NBA futures?
Sign up here!
Ball is continuing to develop into one of the game's best young talents while the team is hoping to continue to assemble more proven players around him. The next head coach will have the task of pushing the franchise toward being a playoff constant.
The Hornets' decision to fire Borrego allows them to bring a coach sooner to put together a roster to their preference. It also gives way to the next hire having more comfort and familiarity with the players and organization.
Facebook Twitter LinkedIn