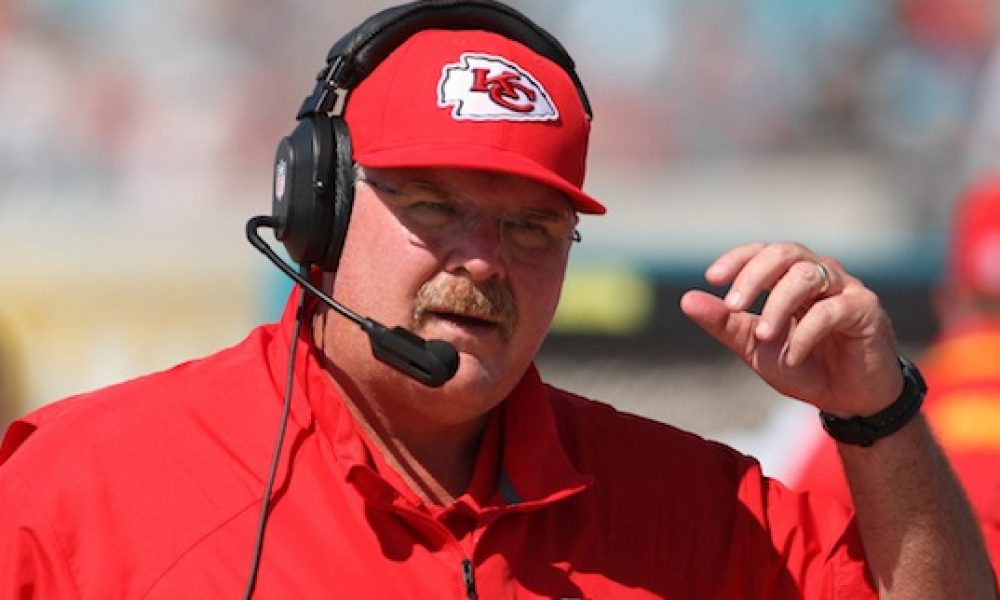 Sep 8, 2013; Jacksonville, FL, USA; Kansas City Chiefs head coach Andy Reid during the game against the Jacksonville Jaguars at EverBank Field. Mandatory Credit: Rob Foldy-USA TODAY Sports
The Kansas City Chiefs may have traded away star receiver Tyreek Hill, but the front office isn't looking to wait for a contention window.
It's a new day for the Kansas City Chiefs, but it might still have the sun shining.
This offseason has been a tough one for many who support the perennial AFC frontrunners. The Chiefs watched safety Tyrann Mathieu jettisoned in free agency, corner Charvarius Ward signing with the San Francisco 49ers and then, stunningly, traded away superstar receiver Tyreek Hill for five draft picks, sending him to the Miami Dolphins in March.
However, there's good news for the Kansas City faithful. The Chiefs are loaded up with 12 draft picks for next week's NFL Draft, tied for most in the league alongside the Jacksonville Jaguars. Furthermore, eight of those selections comes in first four rounds, including two in each.
While some have speculated Kansas City is looking to reload with 2022 being something of a down year, general manager Brett Veach has other ideas.
On Friday, Veach spoke to local media and laid out his stance on how the Chiefs can rebound from the loss of Hill by utilizing different avenues. Per Adam Teicher of ESPN:
"When you have Pat Mahomes, we'll be wired to go after it every year. Even though you may make moves and you may trade really good players, it doesn't mean [there won't] be another counterpunch and that we [won't] try to be aggressive in another way. You just have to be smart and flexible in what you do. What's needed to do that is draft resources and cap space.
"Just because you trade away a great player doesn't mean we're in a rebuilding mode by any means. It just means we're going to find a new set of resources and we're going to try to be aggressive."
It'll be fascinating to see how Veach plays the upcoming week. Will the Chiefs move up, move down or largely stay in their current draft slots? To go further, which positions are Kansas City target early? Corner, edge rushers and receivers are all clear needs, but how does the board fall for the Chiefs?
After four straight years of hosting the AFC Championship Game, some have written off Kansas City in the star-studded conference. Yet if Patrick Mahomes, Andy Reid and a terrific front office has their say, those notions would be incredibly premature.
Facebook Twitter LinkedIn