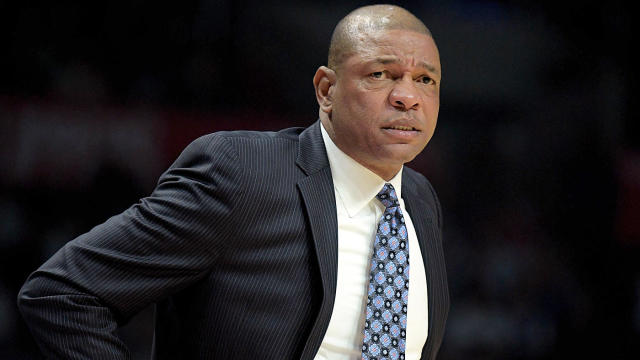 Doc Rivers says Philadelphia has been 'walking the ball up the court' in their last two defeats against Toronto.
Both Doc Rivers and the 76ers franchise will be worried they are sleep walking their way towards history repeating itself. Philadelphia finds itself in a precarious position having initially raced to a 3 – 0 lead in the series.
Doc Rivers is the only coach to lose a series after leading 3 – 1 more than one time. In fact, it has happened to him three times.
Want $250 to bet on the NBA Playoffs?
Sign up now!
The 76ers have similar playoff scars. Last year, they blew a 26 point lead against Atlanta in Game 5 of the Eastern Conference semifinal. They then lost at home in Game 7.
It's clearly something Rivers is aware of, judging by how defensive he became when asked about his record.
"Well, it's easy to use me as an example," Rivers said. "But I wish y'all would tell the whole story with me. All right?
"My Orlando team [in 2003] was the eighth seed. No one gives me credit for getting up against the [Detroit] Pistons, who won the title. That was an eighth seed. I want you to go back and look at that roster. I dare you to go back and look at that roster. And you would say, 'What a hell of a coaching job.'
He repeated the trick twice with the Clippers, in 2015 and 2020.
Read: 2022 NFL Draft – 5 Things To Watch In The First Round
The balance of the series demands urgency from Philadelphia, something Rivers is aware of.
"We have to get more stops, because they don't run … they run when they can, but when they don't, they use the clock to 22 seconds. So then the game is a slow-paced game and a half-court game. So the two things: No. 1, we got to get more stops; No. 2, when we get stops and even on scores, we got to play at a better pace. We're walking the ball up the court."
Facebook Twitter LinkedIn