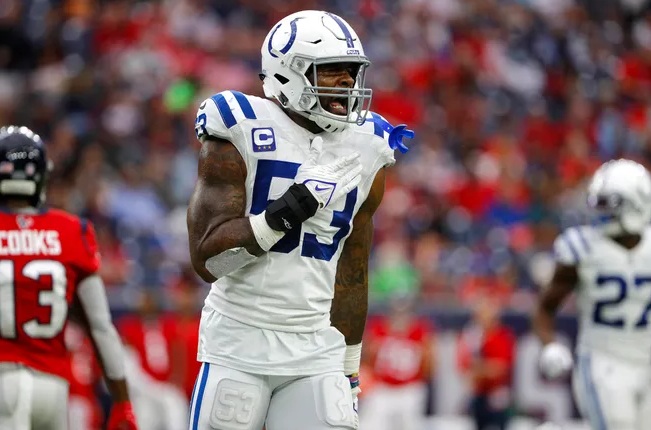 Indianapolis Colts linebacker Darius Leonard is focussed on getting into shape for training camp following an ankle injury.
Darius Leonard earned another All-Pro selection in 2021, but was unable to finish the season. It was a period in which the Colts collapsed in the final weeks.
Darius Leonard decided against having surgery on his ankle in the offseason. In spite of this, he feels it's in better shape than ever.
"It's attached, it's there," Leonard said. "It feels a whole lot better than what it did, coming from the end of the season. A lot of time to rest, trying to make it stronger. I feel better coming into this season than I did last year, I can say that."
Want $250 to bet on NFL futures?
Sign up here!
"I think we did enough cleaning it up the past two times. … Now, it's more strengthening up, controlling every movement I possibly can and making sure my body is taking that beating early so whenever I come to training camp, my body is used to cutting."
Crucially, the time off allowed Leonard to recharge mentally as well as physically. He says he will enter the 2022 season more energized than ever before.
Read: Baker Mayfield Trade Doesn't Seem Likely For Seahawks
"In this profession, sometimes you feel like you don't have a say so in your personal life just because it's all football, all football," Leonard said, via the Indianapolis Star. "When you feel like you have to hold a shade up on your personal life because of your football life, it eats you up.
"I fell out of love with the game. I wasn't enjoying it anymore."
Facebook Twitter LinkedIn