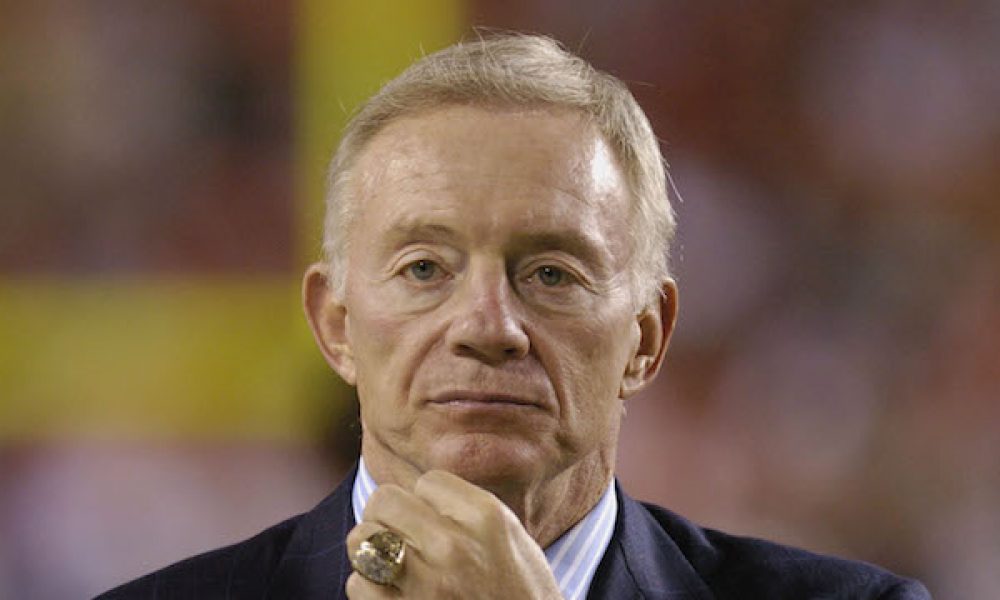 Dallas Cowboys owner Jerry Jones is on the field before play against the Washington Redskins at FedEx Field, September 27, 2004 in Landover, Maryland. The Cowboys defeated the Redskins 21 to 18. (Photo by Al Messerschmidt/Getty Images)
The Dallas Cowboys have been a perennial disappointment for the last 25 years. In a weak NFC this year, perhaps they finally surpass expectations.
America's Team has been more myth than reality over the past quarter-century.
Since 1995, the Dallas Cowboys have failed to reach the NFC Championship Game, let alone get to or win the Super Bowl. Incredibly, only the Miami Dolphins, Houston Texans, Washington Commanders, Detroit Lions and Cleveland Browns join them with that dubious distinction.
Last year, the Cowboys coasted to a division title in the horrid NFC East but lost in the Wild Card round to the San Francisco 49ers, on the back of double-digit penalties and hilarious clock management to end the contest.
On Monday, tight end Dalton Schultz talked about where the Cowboys have been in recent years and how they're trying to change for the better. Per ESPN:
"Everybody knows what the goal is. That's something we talk about as often as we can. Maybe at the end of a lift, everybody brings it up and wants to break it down and some guy will just say a few words. Obviously, that's at the forefront of our minds is a championship for this organization, and I believe that starts in the offseason. So whether it'll be working out on your own or working out in the facility, you're competing with yourself in the offseason, and I think that's going to pay dividends for us in the upcoming year."
Now, after an offseason which saw the departure of receiver Amari Cooper, edge rusher Randy Gregory and right tackle La'el Collins, Dallas actually gets a dollop of good news:
The Cowboys may have lost a few pieces, but the rest of the NFC can say the same and then some.
We've seen the Green Bay Packers trade away receiver Davante Adams and fail to replace him. The Arizona Cardinals lost pieces and are embroiled in an ugly dispute with quarterback Kyler Murray. The Tampa Bay Buccaneers also lost key free agents, while the Los Angeles Rams can say the same. In the NFC East, nobody seriously improved in free agency, giving Dallas a clear path to repeating.
While nobody would claim the Cowboys as a Super Bowl favorite, they could be in the contender circle with a good draft. After nearly 30 years of no-showing big moments, Dallas isn't in bad position to make a run with a few good breaks in 2022.
Facebook Twitter LinkedIn