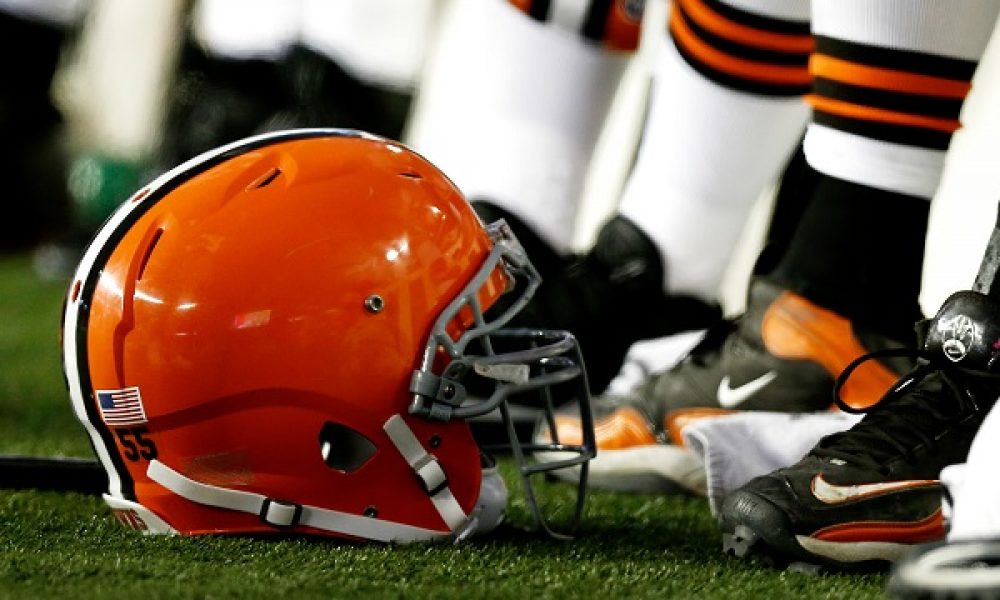 Dec 8, 2013; Foxborough, MA, USA; A Cleveland Browns helmet sits on the sidelines during the fourth quarter of New England's 27-26 win at Gillette Stadium. Mandatory Credit: Winslow Townson-USA TODAY Sports
The Cleveland Browns are locking up tight end David Njoku to a four-year extension, and it's a big gamble for the club.
On Friday, the Cleveland Browns took a serious gamble, to the tune of $56.75 million.
Cleveland signed tight end David Njoku to said amount before Memorial Day weekend, giving him a four-year extension to take him off the franchise tag along with $28 million guaranteed. Njoku, 25, has spent his entire career with the Browns after being drafted out of the University of Miami (FL), and while the potential has always been there, the production hasn't.
Through five seasons on the shores of Lake Erie, Njoku has 148 receptions for 1,754 yards and 15 touchdowns. His best campaign came in 2018, with 56 catches for 639 yards and four touchdowns. It's been a struggle since. Over the past three years combined, the former second-round pick has totaled 60catches for 729 yards and seven scores.
Still, Browns general manager Andrew Berry made Njoku a top-five tight end in terms of annual and overall dollars, showing a belief in the young player to keep ascending. Now with quarterback Deshaun Watson throwing him the ball, there's reason to believe Njoku's numbers could quickly rise in the new offense.
For Cleveland, locking in Njoku to such a term and rate is a risk. If Watson and head coach Kevin Stefanski can get the best out of him, fantastic. But if he remains at the same level, it's tough to see Njoku being worth what is a top-tier contract for the position.
At this point, Berry needs to be careful in the way of handling the salary cap. Cleveland has a litany of big contracts including Njoku, Watson, corner Denzel Ward, edge rusher Myles Garrett and others. The Browns are reaching the juncture of needing to hit on draft picks or face the reality of a weakening roster based on a top-heavy cap.
Ultimately, Berry is showing belief in a young player's talent. Nothing wrong with that. Unless he's wrong, in which case the Browns will be overpaying a middling player when they could have seen one more year while on the franchise tag, and then either cut bait or rewarded actual production, all while the price likely would have been close to the same.
Facebook Twitter LinkedIn