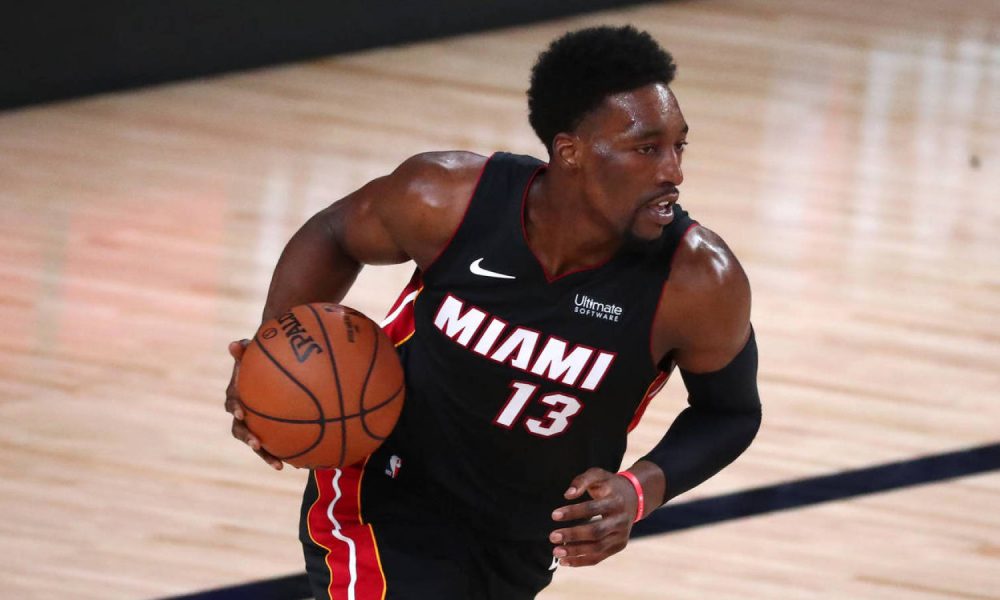 Sep 19, 2020; Lake Buena Vista, Florida, USA; Miami Heat forward Bam Adebayo (13) brings the ball up court against the Boston Celtics during the first half of game three of the Eastern Conference Finals of the 2020 NBA Playoffs at ESPN Wide World of Sports Complex. Mandatory Credit: Kim Klement-USA TODAY Sports
Miami Heat big man Bam Adebayo feels disrespected by his omission from the Defensive Player Of The Year finalists.
Bam Adebayo says he would have been selected if the Heat had appeared on national television more often.
Boston's Marcus Smart, Phoenix's Mikal Bridges and Utah's Rudy Gobert are all in contention for the award ahead of him. Bam Adebayo called the lack of recognition 'disrespectful'.
 "I feel like I can do anything that two out of the three can do, besides, I mean, I can't teach height," he said.
Want $250 to bet on the NBA Playoffs?
Sign up here!
"But they all three play on TV more than me. So I would expect that. They get more TV games and they get more exposure. People like to talk about them more. Don't nobody want to talk about us. So, it's whatever at that point."
The Suns had 34 nationally televised games this season. Meanwhile, the Celtics had 32, the Jazz had 26 and the Heat had 22.
"I feel like that's why a lot of dudes do get a lot of awards, in my opinion," Adebayo continued. "They're always on TV getting to showcase their talent and just so happen to have good.
Head coach Erik Spoelstra, who was named as a candidate for Coach Of The Year, came to the defense of his player.
Read: Mavs Dealing With Luka Doncic's Shaky Status For The Playoffs
"I'm just really stunned that Bam is not a finalist," Spoelstra said. "I don't know what people are watching. And he's played in enough games, so I don't want that as an excuse, either.
"Just watch any one of our games," Spoelstra said. "You have a defensive system that's built around his toughness and versatility. And it's not a cliché, it's not just a thing you throw out there that he can literally guard 1 through 5. You can count on one hand in his association of 450 how many guys that you can legitimately say that can compete on the ball 1 through 5 at all five positions. And he's at the very top of that list. That's unique unto itself."
Facebook Twitter LinkedIn