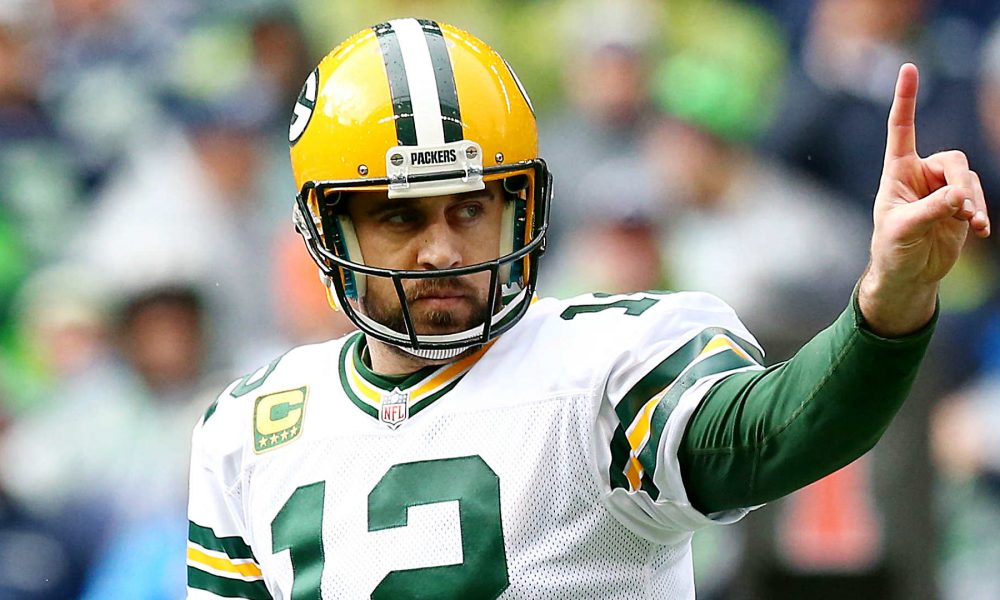 Green Bay Packers quarterback Aaron Rodgers isn't sure trading Davante Adams 'made a ton of sense', especially since his extension.
Aaron Rodgers recently signed a three-year, $150 million extension with the Packers. When he did, he believed he would be playing with his number one receiver next season.
Any quarterback would be disappointed to see his favorite target leave the team. However, Rodgers' complicated relationship with the front office has been a feature of his last two contract extensions.
While he stopped just shy of criticizing the organization, Aaron Rodgers couldn't quite hide his frustration.
Want $250 to bet on NFL futures?
Sign up here!
"It was a little surprising with Davante — obviously when I made my decision, I was still thinking he was going to come back," Rodgers said. "I was very honest with him about my plans and my future and where I saw my career going, as far as how many years I want to play. But I felt like he was going to be back, didn't obviously turn out that way but I have so much love for 'Tae and appreciate the time we spent together and definitely wish him the best in Derek [Carr] in Vegas. But that's a big hole to fill."
It's not the only hole to fill, either. Davante's departure to Las Vegas was followed by the signing of Marquez Valdes-Scantling by the Kansas City Chiefs.
As well as that, Green Bay did not select a receiver in the first round of the draft. This is the first time they have passed on a receiver in the first round since Rodgers has been a packer.
Read: David Tepper Urges Panthers Fans To Have Patience
"There's not a lot of teams that probably want to trade receivers to Green Bay, so I think we're probably at the back of the line for a lot of these teams," he said. "But at the same time, I think if you're not going to pay Davante — obviously, we traded him, he wanted to move on — but going out and paying another guy, I don't know if that makes a ton of sense … I feel like we've been in the mix but does San Francisco really want to trade Deebo Samuel to us?"
Facebook Twitter LinkedIn