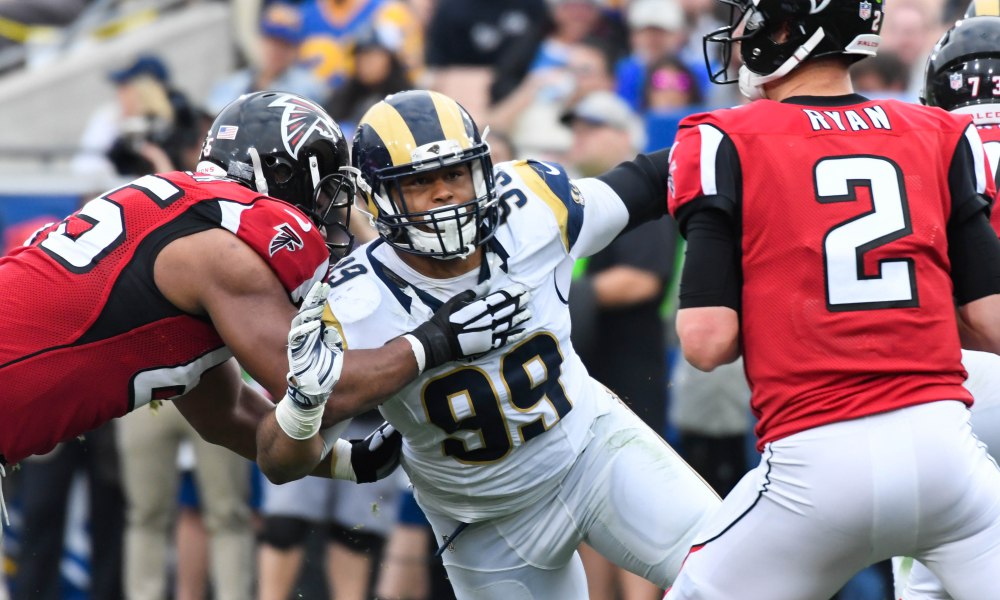 Robert Hanashiro-USA TODAY Sports
Since the report surfaced hours before Super Bowl 56 that Los Angeles Rams star defensive tackle Aaron Donald may retire, the possibility remains on the table.
Donald further fueled that potential scenario during a recent interview on the I Am Athlete podcast.
"It ain't about the money, it's a business at the end of the day," Donald said via ESPN."That's what you've got to see. For me, it's about winning. I don't want to play football if I can't win anyway, so I feel like … if I got a real opportunity to win another Super Bowl, then it makes sense to play. But again, it's still a business. We've got to handle the business side of things, and if that wasn't to get handled then, you know, it is what it is type of situation. I'll be fine regardless."
Donald has put forth a first-ballot Hall of Fame career that now includes a Super Bowl win on his resume. He has won the NFL Defensive Player of the Year award three times, earned seven First-Team All-Pro selections, and received eight Pro Bowl nods through his first eight seasons.
The 31-year-old is currently under contract through the 2024 season and is eyeing a lucrative extension. The Rams have expressed significant interest in getting him locked into a new deal to extend his tenure.
Want $250 to bet on NBA futures?
Sign up here!
Donald is likely serious about being content walking away, but it would be foolish for the Rams to allow him to step into retirement due to lackluster contract talks.
Expect the Rams to ramp up their offer to keep the future Hall of Famer aboard for several more seasons.
Facebook Twitter LinkedIn